Where to use
Our EP type pumps are ideal for every type of liquid, especially for liquids containing solid materials, highly viscous paper stock transfer in paper and cellulose industry due to their special design resistant against abrasion. Furthermore, they are used in food and liquor industries with high efficiency.
Design
EP type pumps are single-stage and designed by considering usage areas. Therefore, they are highly efficient. The pump consists of two main blocks: Bearing assembly and volute casing. Its maintenance is ultimately easy while short-time assembly & disassembly and part replacement are possible. During maintenance, for part replacement, there is no need for dismantling the volute casing, thus, suction and force lines. It is ensured long-term use for the volute part without being worn thanks to placing abrasion plates (front-back lids) and special design of the suction end.
Impeller
The impeller is of the three-vane open-type. Due to the large flow passages, there is no risk for clogging or particle deposition.
Bearing assembly and shaft
The shaft has a bearing against axial and radial loads by two sides of the body with an oil tank. Shape of the body has a special design for avoiding vibration during operation. A shaft protective sleeve is provided for avoiding damage to the shaft in the pump's stuffing box.
Material
Material has been determined for each part considering where the part is to be used; however, manufacturing can be done according to special demands of the customer.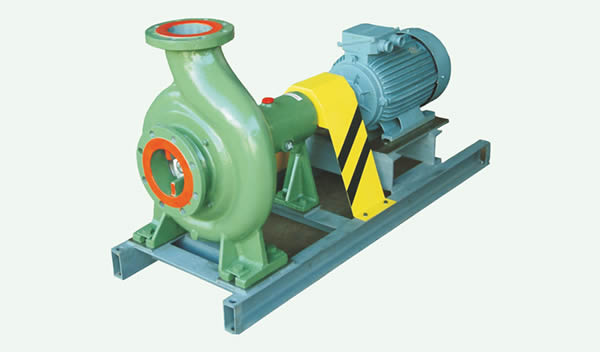 Capacity and features
Flow rate: 10 - 1500 m3/hr.
Head: 5 - 75 m SS.
Operation cycle: 1450 RPM
Consistency: up to 6%
Efficiency: max. %86
Operation temperature: max. 100 0C
Spare parts are available.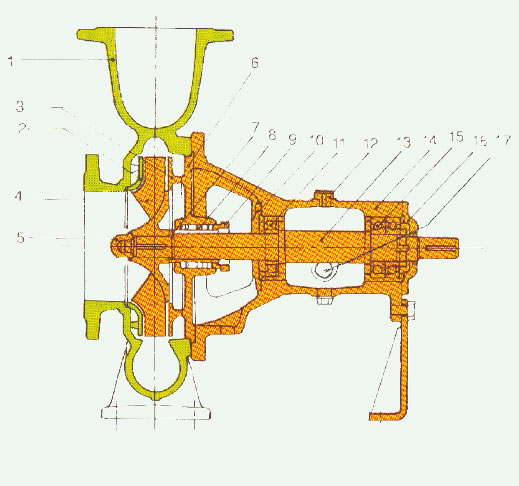 NO. PART NAME MATERIAL
1- Pump Snail GS45
2- Curved Cover AISi 329
3- Cover Up AISi 329
4- Fan AISi 329
5- Fan Spinning Nut AISi 304
6- Seal Cover GS45
7- Shaft Protection Guard 51420
8- Seal Packet Teflon Water Wrap Bronze
9- Seal Glendi GS45
10- Front Bearing Cover GG25
11- Front Bearing S.K.F. FAG
12- Oil Reservoir Tap P.P.
13- Mil AISI 304
14- Bedding GG-25
15- Rear Bearings SKF-FAG
16- Rear Bearing Cover GG-25
17- Oil Indicator P.P.
Used in standard manufacturing of materials